In memory of Dr. Tengiz Gvasalia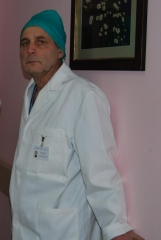 Dr. Tengiz Gvasalia, head of pediatric TB programs in the country of Georgia, died on February 13, 2012 at the age of 65. Dr. Gvasalia was a compassionate pediatric TB provider who saved the lives of hundreds of children with TB in Georgia. In addition, he was the first physician to treat children with drug-resistant TB in the country. He was an exemplary doctor, skilled leader, and a masterful teacher. Perhaps most importantly, Dr. Gvasalia was a fierce advocate for children with TB.
Dr. Gvasalia was much beloved by those he cared for and it was common to see him surrounded by his young patients and their families outside of the children's TB hospital in Tbilisi. His warmth was felt by all who encountered him. In addition to providing high quality medical care, Dr. Gvasalia recognized the horrible social conditions faced by many of his patients and their families. He went out of his way to make sure their needs were met–including providing food, housing, clothes, and toys for the families under his care. An avid artist, he taught the children and families in his care to use art as part of their healing. "Without him here," noted a colleague, "the place is not the same. We have lost our heart."
Dr. Gvasalia was memorialized at a service on Friday, February 17th held at the National Center for TB and Lung Disease in Tbilisi. A memorial fund has been established in his name to continue to meet the social needs of his patients and their families. In this way, Dr. Gvasalia will continue to provide comfort and health to the smallest victims of TB. For inquiries or to make a donation, please contact Dr. Jennifer Furin (jjf38@case.edu).